"Platinum Cash" VISA Card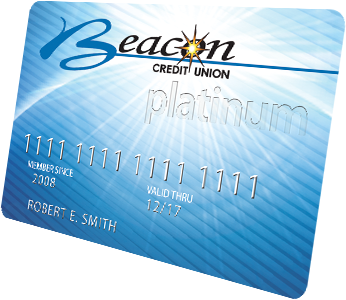 Just when you thought the Platinum VISA Card couldn't get any better, we added CASH BACK on every purchase!
For every transaction you make, you earn 1% Cash Back! Not only do you get a great 11.75% Variable APR and no annual fees with your Platinum VISA Card, but now we've added Cash Back to the list of fantastic perks!


---
Just a few things you'll need to know about your New Beacon "Platinum Cash" VISA Card:
Qualifying Transactions
Merchandise transactions minus return transactions.
Forfeit of rebate
When an account becomes 60 days past due.
Account excluded from "Platinum Cash" rebate
Accounts with Bankruptcies, Closed Accounts, Interest Prohibited Accounts, Lost Cards, Stolen and/or Accounts with Fraudulent Activity and Charged-Off Accounts.
Redemption Calculation
Rounded to the nearest hundrenth.
Ex. $23.98 rounded to $23.99
Rebate Amount
1% of qualifying transactions
Rebate distribution
Automatic credit on cardholder statement, rebate is distributed in the first cycle period of each year (January).
Enrollment
Automatic enrollment into the program when the account is opened.
Maximum rebate
---
All Beacon Platinum Cardholders prior to March 31st, 2014 will automatically be enrolled in the Platinum Cash Back Program beginning April 1st, 2014. The former RewardsNOW will end on March 31st, 2014. "Rewards Now" points will stop being accrued on February 28th, 2014 and you may redeem rewards until April 30th, 2014.