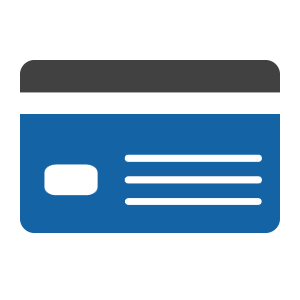 Checking Made Simple... Just Swipe
and Go!
Pay for your daily purchases, right from your Beacon checking account. No more check writing, no need to carry large amounts of cash or run up your credit cards... Simply "swipe and go".
Record keeping is easy. Debit Card Purchases will appear on your monthly checking account statement and can be seen through PC Banking. And, because it's a Visa - you won't be held liable for fraudulent charges.
Use It Instead Of A Check
Beacon Credit Union's debit card can be used at retail merchants displaying the VISA logo and at terminals located at gas stations, grocery stores or restaurants - wherever you see the VISA logo. There's no fee for this added convenience. By using your debit card at these locations, the amount of your purchase is deducted automatically from your Beacon checking account at the time of purchase. If you would like additional cash back from your transaction, simply tell the sales clerk the amount you want (cash back amounts vary). They can add your requested amount to your total and provide the extra cash. This can save you an extra trip to an ATM or the credit union to make a withdrawal.
Similar To An ATM Card
With your Personal Identification Number (PIN), the Beacon debit card gives you 24 hour access to your accounts at all area Beacon ATM locations.
Convenience, Convenience, Convenience
Managing your money is easy when using your Beacon debit card. At most places, you simply hand the cashier your card and then sign the receipt, just as you would if you were paying with a credit card. In other places including most supermarkets and gas stations, you can choose to enter your PIN. For each debit card purchase, you will receive a printed receipt so you can record the amount in your checkbook register at a time convenient for you. Information on each debit card purchase will also be listed on your monthly checking account statement and can be tracked on PC Banking.
Lost or Stolen Card?
If your card becomes lost or stolen, protect your funds by calling:
1-800-472-3272
24 hours a day/ 7 days a week... We protect your account and allow you to act swiftly.